Throttle Stops
Features
Bushing on throttle shafts for long life and repairability.
Seals on shafts to eliminate vacuum leaks.
Heavy duty solenoid with internal spring and rubber boot to keep dust and dirt from fouling mechanism.
Exclusive stop adjustment knob is divided into 10 divisions (makes it easier to use throttle control programs from your weather computer because computers have trouble with "flats".) It also has a marker to let you know what "turn" the stop is set so you never lose track or have to measure.
Safe, nothing connected to your throttle linkage. You are in complete control.
S-2 PK
The S-2 mounts under Standard Holley Carbs. Stop is 2" tall aluminum casting. Works well with gasoline or alcohol. Add primary kit (suffix PK) and it will be installed from the factory. It will reduce E.T. from .2 - .8 tenths. Add primary kit for more E.T. reductions. Call for recommendations. Gas or alcohol applications.
S-2 Stop for Std. Holley $399.95
S-2PK Stop for Std. Holley (with Primary Kit Installed) $499.90
DA-6 PK
#1 Stop Products is pleased to announce a new Dominator Stop patterned after our World Championship winning 2 piece insulator style. This 1 piece all aluminum stop is perfect for open engine bays (dragsters and Altereds etc.). This, accompanied with an easier to adjust "Micro Adjustment Knob" and a new low price, can help make it a big part in your winning combination. In stock for immediate shipment.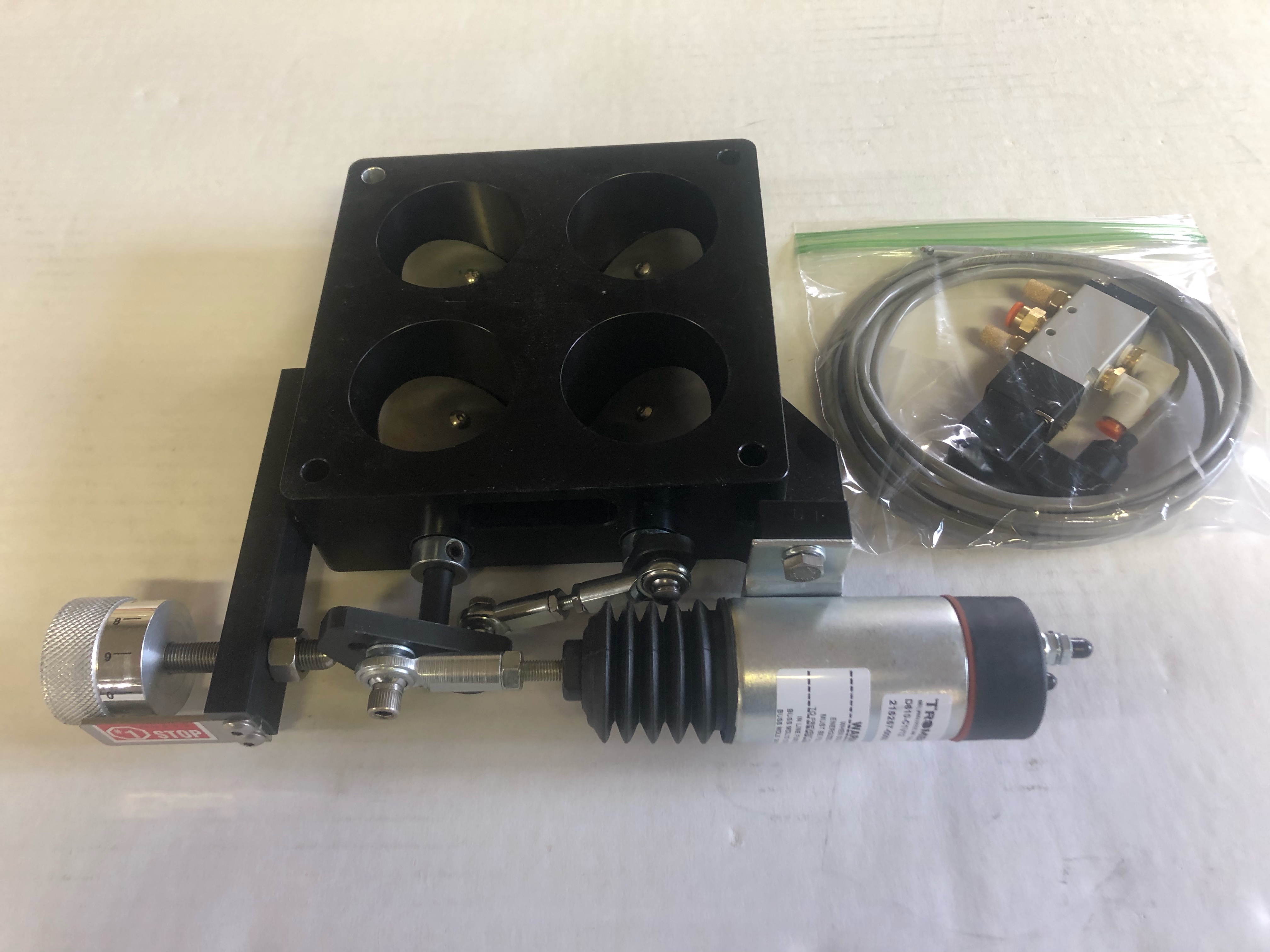 DA-6 Fit Holley Dominator $399.95
DA-6PK Fit Holley Dominator (with Primary Kit Installed) $499.90
DI-3 PK
The DI-3 Stop is the same as the DA-6 mechanically. We machine the top off and add a phenolic spacer to keep heat transfer from the engine from the dominator carb. (Note not to be used in alcohol applications as it will keep carburetor too cool.)
Special order only, call for delivery date.


DI-3 Fits Holley Dominator $419.95
DI-3PK Fit Holley Dominator (with Primary Kit Installed) $519.90


DP-5 PK
The DP-5PK Adapter Stop will bolt to a standard Holley (4150) bolt pattern intake or a Holley Dominator Carb (4500) bolt pattern intake. With the addition of an optional top, either a standard Holley (4150) carburetor or a Holley Dominator (4500) carb can be bolted on above the throttle stop. The new oval shape throttle blade increases flow over round throttle blades. The total height of 2 inches makes this a bolt in replacement for most adapters presently on the market. No hood scoop or throttle linkage change compared to adding a stop on top of your adapter. With both adapter tops (optional) you can bolt your stop to either standard Holley (4150) or Dominator (4500) style intake and bolt either a standard Holley or a Dominator carb by only changing the adapter top.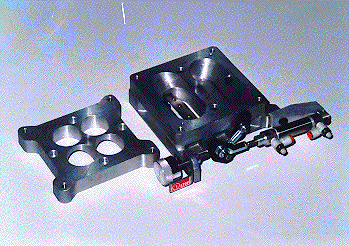 DP-5 Adapter Stop $399.95
DP-5PK Adapter Stop (with Primary Kit Installed) $499.90
When ordering specify which top:
A-4150 Standard Holley Top
A-4500 Dominator Top
Extra Top $69.95


Air Stops
This stop has all the features of our electric stop. By replacing our electric solenoid with an air cylinder, the stop opening speed can be controlled. If tire spin on marginal tracks occurs when your stop comes open, this stop could be the cure. #1 STOP has tested different air components for 2 years and has found the double acting cylinder (2 air lines to the cylinder not one like most other controls) give the most consistent and controllable opening and closing of any style available. The adjustable flow control lets you choose the opening rate of your stop for smooth application of power for precise control. By adding an option flow control to the closed side of the air cylinder it will allow you to control the closing rate of the stop. (Some applications have shown a loss of E.T. control by slamming the stop closed.) Our stop comes with aired lines, air solenoid valve, and fittings. Just tee into your air bottle, wire solenoid and go racing.

We also stock a line of "One Touch" style fittings and air lines to help you with plumbing needs. Just call our tech line for more information.

FC-C Optional Flow Control $25.00
T4000 Optional CO2 Bottle & Reg. $130.00

Note:
To order place the suffix AIR behind the stop part number Air option on any throttle control is available. Air or CO2 bottle not included. When ordering a dominator stop please specify 2", 2 1/8" or 2 1/4" bore. (Other sizes available call for special order)

Example: DA-6PK Primary Kit Air Option Part Number: DA-6PK Air $564.95



DA-6PK-AIR FC-C $589.90


3 Stage Stop
#1 Stop Products has developed a 2 position stop for high horsepower applications. This stop allows a wide open position, an adjustable intermediate stop position, and an adjustable stop position. This CO2 powered unit allows more CFM control at the intermediate position than conventional twin-stops. This allows a workable stop in a wider H.P. range. This unit comes with an adjustable flow control for smooth opening and can be optionally fitted with up to 3 more flow controls for smooth consistent application of power. Jimmy Lewis switched to this stop in 1998 and was the NRHA S/G World Champion.


Fits Std Holley S2-3PK 3 Stage Stop $669.90
Fits Holley Dom. DA-63PK 3 Stage Stop $669.90
FC-C Flow Control (up to three can be added) $25.00
When ordering a dominator stop please specify 2", 2 1/8" or 2 1/4" bore.



DA-6PKN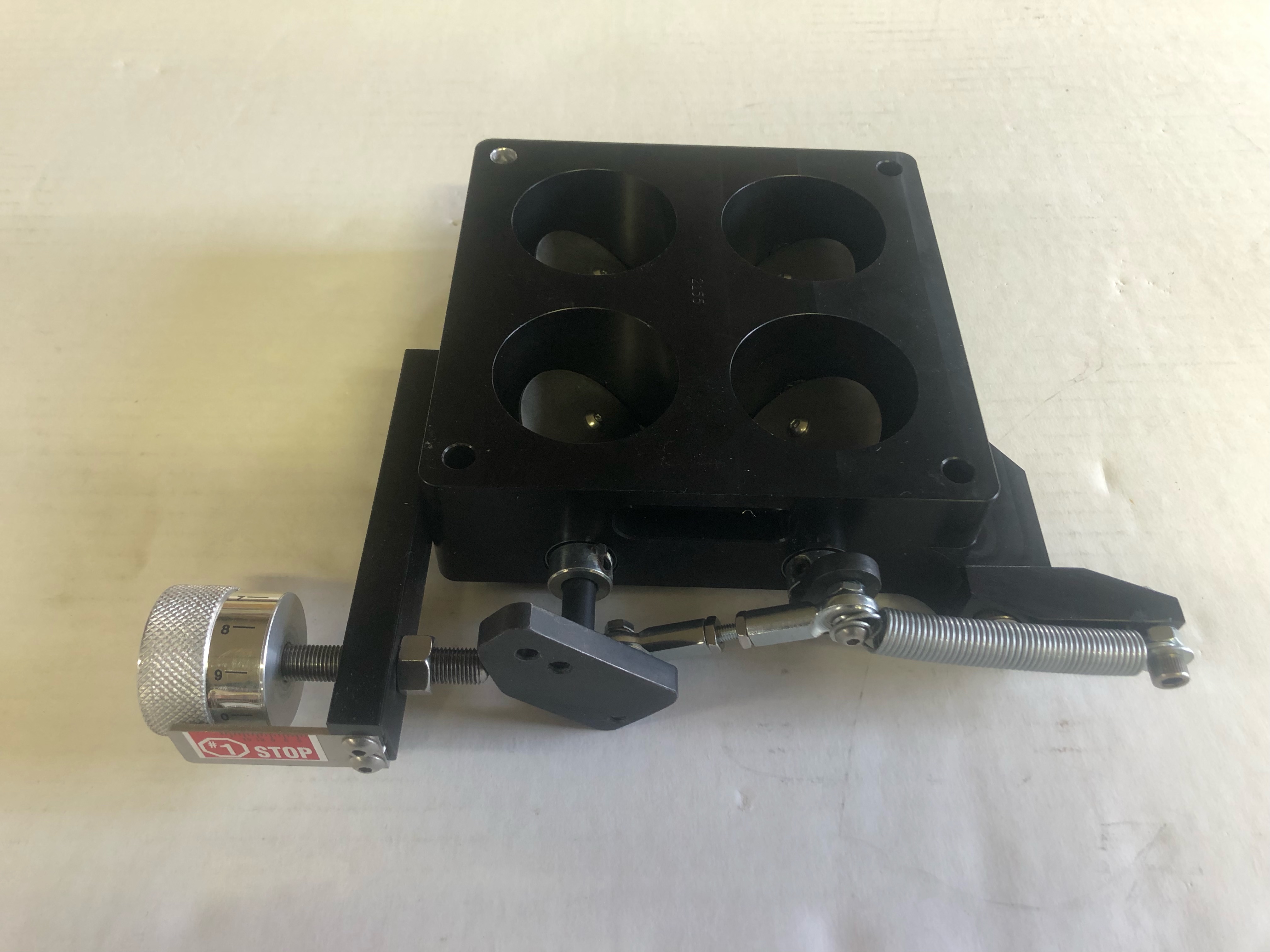 DA-6PKN shown for Holley 4500 Dominator.

S-2 mounts under Standard Holley Carb. Stop is 2" tall aluminum casting. Works well with gasoline or alcohol. Add primary kit (suffix PK) and it will be installed from the factory.It will reduce E.T. from .2 - .8 tenths. Add primary kit for more E.T. reduction. Call for recommendations. Gas or alcohol applications.

S-2N Stop for Std. Holley $299.95
S-2PKN Stop for Std. Holley $399.95 With Primary Kit Installed
DA-6N Stop for Holley Dominator $299.95
DA-6PKN Stop for Holley Dominator $399.95 With Primary Kit Installed